welcome!
who we are
A Family Tradition.
An American Success Story.​
How does a great success story begin? With vision, commitment, and plenty of hard work. In 1991, Robert Powell had no job, a young family to support – and the skills of an outstanding machinist, handed down from father to son.
The Robert's Ballscrew Repair Service success story began with a basement, five hundred dollars, a few flyers and a dedication to excellence. Robert Powell knew that small machine shops and major OEMs alike could use the services of a craftsman such as himself: Someone capable of quickly, carefully and reliably making critical ballscrew repairs. It was an essential service that kept machines and lines running, kept production on schedule, and that stood to save client companies thousands of dollars when done right.
Companies quickly learned that Robert Powell always did it right. Roberts Ballscrew Repair Service took up residence in a small 1,000 square foot shop. In 1997, the company moved from South Lyon to a 6,000 square foot facility in Dansville.
Today, RBRSI is a thriving enterprise occupying a 15,000 square foot facility and planning to add another 5,000 square feet by 2018. With 10 employees and growing, the company's highly-trained machinists provide essential ballscrew repair and replacement services to clients across Michigan, throughout the Midwest, and elsewhere across the United States. The company's longstanding success and continual growth have led to a second generation of family ownership.
Robert's Ballscrew Repair Service remains a company founded in family pride and dedication to a job well done – a company that refuses to sacrifice quality for the sake of short-term gain. It's a difference that clients have come to know and appreciate, as they turn to RBRSI again and again for reliable, rapid, capable service that minimizes downtime.
That's the Robert's Ballscrew Repair Service story: Service provided. Value Delivered. Satisfaction Achieved. It's how we've always done business, and it's what we can do for you.
Etiam finibus velit nibh, in facilisis odio sollicitudin at. Integer a felis eleifend, vulputate est sit amet, cursus mi. Praesent sed eros non dolor congue tempus. Curabitur viverra vel ex nec pharetra. Fusce sed tempor eros, sit amet volutpat nunc. Duis dictum sapien gravida velit tincidunt gravida. Morbi venenatis ante nec orci ultricies euismod. Aliquam viverra, urna sed egestas scelerisque, arcu lacus lobortis magna, ac iaculis purus lorem ut arcu. Vivamus eu pellentesque magna, nec iaculis justo.
Praesent malesuada vitae nisl ut commodo. Cras pulvinar, eros sed suscipit tincidunt, justo nisl mollis dui, a accumsan felis massa eu sapien.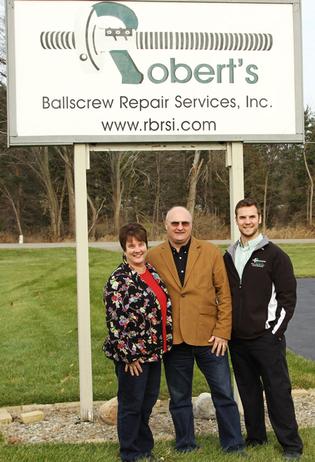 We Stand Behind our repairs!
Since 1991, we have been keeping customers happy!
Since 1991...
History, experience, and knowledge matters!
advantages
Why choose us